Welcome to JAIDEN's 'Lady LooKBooK'!!
(Scroll down... A lot more HOTT LOOKS await you...)
Here, ladies can find a 'ROLODEX' hott look from certain celebs and from fashion magazines, looks from day to night, from chillin' to minglin' at the dinner ball. I, JAIDEN do not disappoint :-) so there's not a specific look that I would like that's way out of your league. I like to play fair so there's something for all women who want to be FASHIONABLE.
I don't like for a woman to feel out of her league, but I hope this LOOKBOOK inspires you and encourage you to step up your game because even if you're already beautiful, THE SKY'S THE LIMIT.
If you're going to be a JAIDEN LOOKBOOK WOMAN, you gotta look RIGHT!!!
The models for this LOOKBOOK that frequent this page are Halle Berry, Rihanna, Lindsay Lohan, and Kim Kardashian. I pick the BEST of the best when it comes to all-around fashion.
(Note: The following outfits may be uber-expensive, but you can always find a similar look for less.)
LATEST VID EXAMPLE(s) OF THE NEXT SEASON LOOKS
*Fall/Winter 2012-13 Video(s)*
*Spring/Summer 2012 Video*
Spring/Summer 2012 Trends
One hott trend for Spring and Summer 2012 is going to be COLOR-BLOCKING. Color-blocking is pairing one color with a contrasting color.
Also with this method, it's critically important that your shoes match with one of the contrasting colors to prevent a FASHION FAIL or make it appear like you GOT DRESSED IN THE DARK.
HAIR:
2012 ('80s blonde and bangs)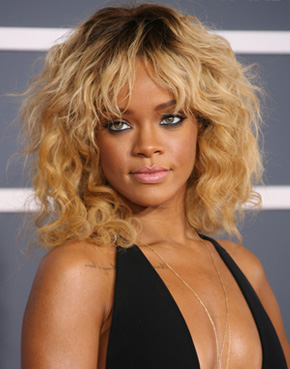 Rihanna and Brandy for 2012
Short (either in all-black, honey blonde or auburn highlights. To be wild, throw in a splash of RED (can't go wrong) )
Hair 'Staples' and Trends (5-yr. timeframe)
Rihanna (2009/10 pics- her styles are nearly timeless) and Fantasia Barrino; THE SHAVED SIDE look is still in after Cassie and Rihanna introduced it.
LONG (subtle braids in flowing hair are a trend...)
Kim Kardashian and Jennifer Hudson
2011-12 Signature/Staple Looks
Tracee Ellis Ross
Dress Down with a blazer, leggings or fitted jeans, sneakers, and a HIGH-END PURSE!! Wacky but it works!! But make sure your purse is dark-colored.
You can't go wrong in a bold-colored (Fall colors are red, brown, black, rust, deep purple) mini-dress paired with leggings and ankle boots.
Ladies, this is a great 2011-2012 kind of look, that can be worn at any point of the year.
If it's cold, simply pair with a slim jacket or non-bulky coat.
(Left) Melyssa Ford; (Right) Alesha Renee
Pippa Middleton (A great and sexy look for work, without going overboard SEXY)
Much, much MORE to come!!!