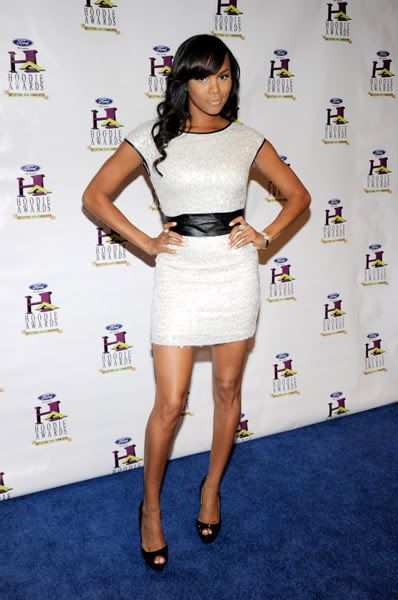 The Hoodie Awards is an event which honors black businesspeople. It was sponsored by Ford and hosted by Steve Harvey. While there were many beautiful people there, two people sparked my interest: LeToya Luckett, artist and former inger for Destiny's Child, and Marjorie Harvey, Steve Harvey's wife.
LeToya was lookin' on-point which her lil' white dress and spiked black Christian Louboutin stilettos. Sexy yet elegant. On the other hand, I tried to formed good words for MARJORIE HARVEY's dress (because I like Steve as a comedian) but I couldn't.
What was MARJORIE HARVEY wearing?? Umm... I can see that it's an artistic dress that wraps around with some kind of thingies barely holding the front (cut from top to bottom) together... UMMM... I don't know... just see for yourself and COMMENT (yeah I'm talkin' to you)...