It's amazing how some celebs keep their cool!
First Ryan Seacrest, now KIM KARDASHIAN!! She was floured down on the red carpet by a random spectator who came ALL THE WAY UP TO HER, and security did nothing to the lady until powder was already poured on the Kim's head and shoulders. Kim instantly put her head down and brushed it off as she was swiftly led away by security.
That lady was caught, though...
See more pics and details by Yahoo!
"She came from Kim's left, with a Zip-Lock baggie," an Access Hollywood staffer on the scene said, noting the bag had about three fists full of white powder, believed to be flour. "The girl just kind of showed up on the red carpet."
According to the Access staffer, who witnessed the event, no one stopped the woman, as she a
"She went in between Kim and her publicist and started dumping the bag on Kim's head and shoulders," the staffer recounted.
Only a small amount of the powder actually touched the reality star, landing on her head and shoulders.pproached Kim.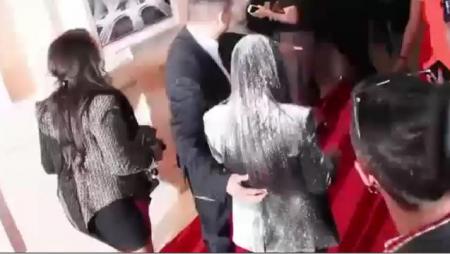 Pic: Google images, The Blaze