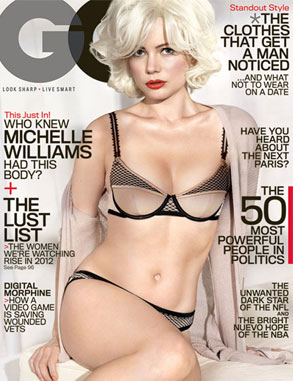 Michelle Williams is instantly recognizable to me as a 'white woman with short hair.' Nothing RACIST about that, but it stands out to me because there aren't too many of those.
Well check out actress Michelle channeling Marilyn Monroe in her latest photo shoot with GQ and in her latest movie, My Week With Marilyn. She definitely is the element of surprise by revealing curves and svelte-ness in her negligee since she's usually conservative and covered up.
What I like about Michelle is she didn't celebrate this whole Marilyn look that she was going for. She says it's just a role and she is a "mother first, an actress second."
See more pics:
The usual look of Michelle Williams (in Jason Wu gown)