Chris Brown FAKELY added yet another tattoo to his collection that is already compiled on his chest and arms. It was a neck tattoo for a MOVIE back in 2010. The tats form artful tattoo sleeves, but somewhere the line has to be drawn!!!
I really don't approve of neck tattoos!! They're not good for business!! I have 7 tattoos, but they're all placed where where they can be subtlely covered up when I go in for a business meeting.
But hey... it's Chris's body and judging by all those tattoos that Chris has... it doesn't look like he's gonna stop!! Please don't actually get a neck tattoo, bro-bro...
Also, BREAKING NEWS: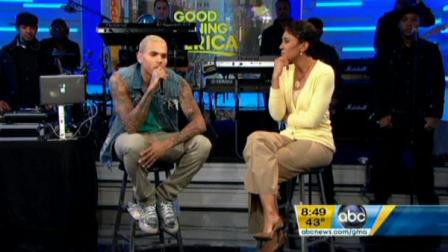 TMZ reported that Chris Brown did an interview with Robin Roberts from "Good Morning America." And just like Rihanna doesn't like it, Chris doesn't either: Robin brought up the 2009 incident again!! Chris played it cool...
But it was a different story afterwards. After the interview, he broke a window at the GMA studios out of anger... more updates coming!
Daaaang... calm down bro, before you get arrested on the day of your album release! Nice shoes, though...