Here's a double-take on PHOTO SHOOTS:
'BASKETBALL WIVES', a popular cable show featuring Royce, Kenya, Jen, Tami, Shaunie, Evelyn, Suzy, and Kesha had done the above photo shoot wearing black tank tops, fitted denim jeans, and an assortment of HOTT and sexy heels.
And then... there's the 'BRAXTON SISTERS', who had the same exact layout for their photo shoot, except the tank tops are BLACK LACE. Who did theirs FIRST???
'BRAXTON SISTERS' did theirs LOOOONG before. So I'm just wondering if the idea was JACKED by 'BASKETBALL WIVES'. If it is, you know better, Shaunie O'Neal!! :-)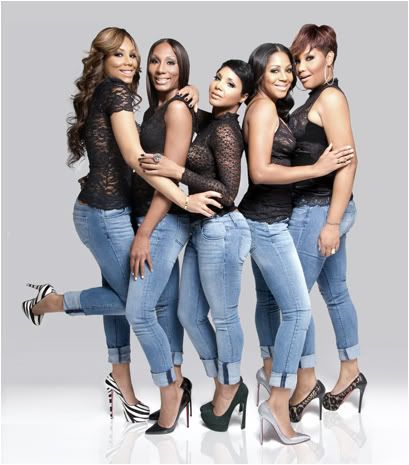 I say BASKETBALL WIVES did the best photo shoot with the assortment of HEELS.
But there's always something about the ORIGINAL... it remains CLASSIC, and the BRAXTON SISTERS definitely have down their classic poses!