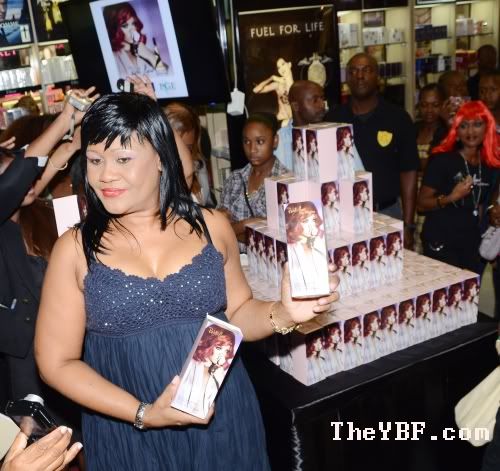 Reb'l Fleur, the first perfume released by Rihanna, was promoted in Barbados by her mom, MONICA FENTY. You would think that the U.S. would have some big promos, but BARBADOS went all-out, cameras flashing, treating Monica like she's royalty.
Monica handled the press very well as the mall went CRAZY over Reb'l Fleur and the woman who birthed this amazing girl. See more pics of the fun Barbados launch and check the girl in the background with the red hair (above); yup, she's one of RIHANNA's fans:
Rihanna's dad Ronald behind Monica (they both are separated)
I can see where Rihanna gets her looks from... she certainly has JUST her dad's skin color.