Yeah I got to admit that I'm one of those people who always got to see what Justin Bieber is up to. Well... the latest I know is that he will be on the cover of ROLLING STONE Magazine, which is an extraordinary accomplishment for a 16-year-old. I mean REALLY.
I'm also happy about his wins at the 2011 BRIT AWARDS. That just puts our nation to shame that they can't even give their own kind his due. *SMH LoL*
Bieber also talked about his relationship with Selena Gomez, SEX (Now what now??), and Politics in Rolling Stones. Take a look at a few pics and excerpts of Bieber talkin' about his smash hit life:
"I don't think you should have sex with anyone unless you love them," Justin told the magazine. "I think you should just wait for the person you're…in love with."
"[In Canada] we go to the doctor and we don't need to worry about paying him, but here, your whole life, you're broke because of medical bills," he tells the magazine. "My [American] bodyguard's baby was premature, and now he has to pay for it. In Canada, if your baby's premature, he stays in the hospital as long as he needs to, and then you go home."
"Canada is the best country in the world," says Bieber.
Read the whole interview at
RollingStone.com
.
Won International Breakthrough Act for BRIT Awards 2011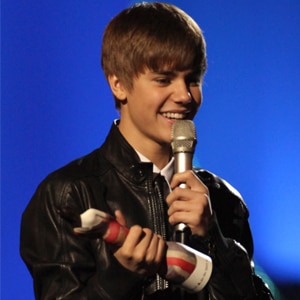 Pic: Various sites (3) UK